Hi, my name is Jesse Sayles. I am a human-environment scholar doing research about environmental governance in coastal and watershed systems.
Societies around the world derive myriad benefits from rivers and coasts and in doing so, often place these environments under substantial pressure. To address this concern and improve human wellbeing, I do research at the nexus of human dimensions of global change, restoration and landscape ecologies, environmental governance, resilience, and sustainability science.
I am currently working as an ORISE Postdoctoral Fellow and am appointed with the U.S. Environmental Protection Agency, Office of Research and Development National Health and Environmental Effects Laboratory, Atlantic Ecology Division. Prior to EPA, I was a postdoctoral fellow at the Climate Change Adaptation Research Group at McGill University. I completed my PhD in geography at Arizona State University, where I worked on the problem of misalignment between governance boundaries and natural resources systems (i.e., social-ecological scale mismatch). The specific case focused on salmon and shellfish habitat restoration in Puget Sound, USA. I have also worked (M.Sc., B.Sc.) with he Wemindji Cree Canadian First Nations community in sub-arctic James Bay on topics of adaptation to environmental change and protected area co-management. And I worked with New York State's Hudson River Estuary Program on issues of small dam and culvert removal and community-based watershed management.
Learn about my current research.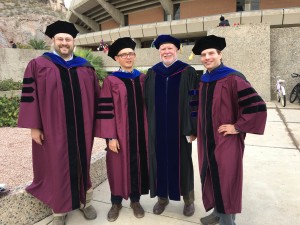 Photo: ASU graduation 2015. Jesse Sayles (right) with lab-mates Chris Galletti, John Connors, and advisor Billie Lee Turner II.